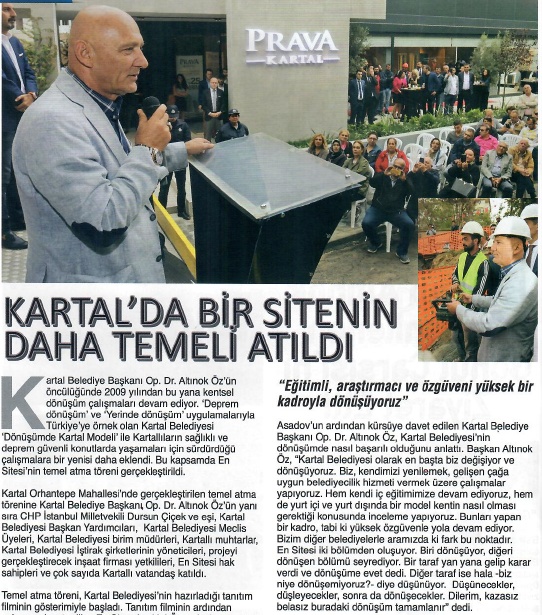 Another Site's Foundation Was Laid in Kartal
Under the leadership of Kartal Mayor Op. Dr. Altınok Öz, urban transformation has been continuing since 2009. Kartal Municipality, which is an example of Turkey with its "earthquake transformation" and "on-site transformation" applications, has added to the studies it carried out a new project for those residing in Kartal, healthy and earthquake-safe housings In this context, the Foundation Laying ceremony of ''En'' site was held.
In addition to Kartal Mayor Op. Dr. Altınok Öz, CHP Istanbul Parliament Member Dursun Çiçek and his wife, Deputies of Mayor of Kartal Municipality, Kartal Municipality Assembly Members, unit managers of Kartal municipality, Kartal Mukhtars, officials of Kartal Municipality affiliates, construction company officials to carry out the project, ''En'' site's rights owners and numerous citizens living in Kartal attended to the foundation laying ceremony held.
The foundation laying ceremony started with the presentation of the introduction film prepared by Kartal municipality. After the introduction of the film, invited to the stage , Özen Aydın, residing at ''En'' site, thanked to Op. Dr. Altınok Öz ,the Mayor of Kartal ,in his speech on behalf of all rights holders. Aydın also thanked to the officials of the construction company and said they hope to have their apartments as soon as possible.
After the speech of Özer Aydın,the resident of site, Ruslan Asadov, officer of İtibar İnşaat, got on the stage and told the following: "It is very nice to be with you at the ceremony of laying the foundation of our project, for which we have been so tired and exhausted with desire. Now I am very happy to realize project in Kartal, every street of which I know and enjoy travelling. I would like to thank to Op. Dr. Altınok Öz, who is the real architect of our happiness and all those who contributed to it."